Israeli-Turkish Conflict
"When it comes to killing, you know very well how to kill."
- Tayyip Erdogan, Prime Minister, Turkey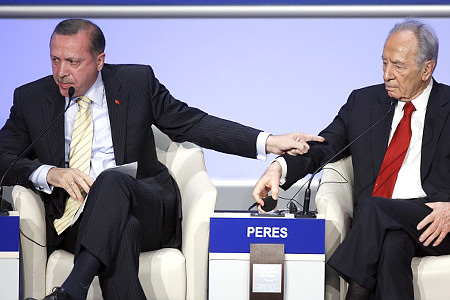 Tayyip Erdogan, Prime Minister of Turkey delivers a powerful condemnation of Israel to Shimon Peres at the World Economic Conference at Davos
World Economic Forum
February 3, 2009
Turkish Prime Minister Recep Tayyip Erdogan says he is done with Davos.
Turkey's Prime Minister Recep Tayyip Erdogan finished his weeks of sharp criticism of the Israeli war on Gaza with an unprecedented outburst of emotion meant to guard the honor of the Turkish nation.
"I attended the panel discussion 'The Case for Middle East Peace' held on the sidelines of the World Economic Forum in Davos, Switzerland as the prime minister of the Republic of Turkey. My responsibility is to protect the honor of the Turkish nation". - Prime Minister Recep Tayyip Erdogan upon his return to Turkey
The complete text of Erdogan's words to Peres are provided below this You Tube Video (with subtitles in English).
Mr. Erdogan:
"Mr. Peres, you are a senior citizen and you speak in a loud voice. I feel that your raised voice is due to the guilt you feel.
"But be sure that my voice will not be raised as yours,"
"When it comes to killing, you know very well how to kill,"
"I know very well how you hit and killed children on beaches."
"In your country there are two former prime ministers whose comments on Gaza are important for me."
"You had prime ministers who said: We relish the opportunity to enter the Palestinian lands on tanks."
"You talk to me with numbers. I am willing to name these people and among you there may be people who are longing to know who they are."
"I condemn those who clap for these atrocities, because I think that cheering the murderers of children and humans is in its kind a crime against humanity."
"Pay attention please, we can't disregard this fact."
"I have made notes of Mr. Peres's speech but I have not the time to answer all of them now."
(The moderator tries to stop the Prime Minster.)
"Let me finish"
"I will only touch on two points"
"First, the sixth of the Ten Commandments in the Torah says "You shall not kill" but in Palestine people are killed."
"And second, which is a very interesting issue; Gilad Atzmon [a Jew himself], says Israeli barbarity is far beyond any usual cruelty."
Aside from this, Avi Shlaim, Professor of Oxford who performed his military duty in the Israeli army says in the Guardian that Israel has become "a rogue state."
(The Moderator tries to interrupt the Prime Minister, with hand gestures and physical contact. Erdogan has a sudden flush of anger and turns to the moderator)
"I thank you so much I thank you, too. From now on, Davos is done for me. I will not attend Davos again. You don't let me speak."
"(Pointing to Peres) He spoke for 25 minutes, but you only let me speak for 12 minutes. This is not acceptable."
Erdogan picks up his notes and without looking at Peres and Ban Ki-moon leaves the session.
On his way out, the Arab League Secretary-General, Amr Mousa, stands up and appreciative of Erdogan's move shakes hands with him.
(Neither the photos nor the text of Mr. Erdogan's speech are to be found on the website of the World Economic Forum.)
CNN
February 14, 2009
Turkey's Foreign Ministry summoned Israel's ambassador to the Turkish capital of Ankara on Saturday to issue a formal complaint over a top Israeli commander's reported remarks criticizing Turkey.
The complaint is part of the escalating war of words between the two regional allies, stemming from Turkey's outspoken criticism of the recent conflict in Gaza.
The Turkish Foreign Ministry said Saturday that it had requested an "urgent explanation" from Ambassador Gabby Levy for recent remarks reportedly made by a top Israeli military commander.
According to the Israeli newspaper Ha'aretz, Maj. Gen. Avi Mizrahi told an international conference that Turkish Prime Minister Recep Tayyip Erdogan should "look in the mirror" before criticizing Israel.
Mizrahi pointed to Turkey's treatment of its long-oppressed Kurdish minority and the ongoing Turkish military occupation in northern Cyprus, Ha'aretz reported.
And, in a separate statement issued Saturday, the Turkish military called the Israeli general's comments "unacceptable," adding, "We expect the Israeli General Staff, which we think gives importance to relations with the Turkish Armed Forces, to clarify the issue."
Tensions have increased between Turkey and Israel since last month, when Erdogan stormed off stage at a conference in Davos, Switzerland.
Erdogan objected to Israeli Prime Minister Shimon Peres' passionate defense of Israel's 22-day military operation in Gaza, which left more than 1,300 Palestinians dead. Thirteen Israelis, including 10 soldiers, were killed.
For the past decade, Turkey and Israel have enjoyed close military and economic ties. The Israeli military often conducts exercises around the Turkish city of Konya. Israeli tourists flock to Turkey's Mediterranean Sea resorts, and bilateral trade has increased dramatically since Erdogan's ruling AK Party first won national elections in 2002.
As a result, audience members were shocked last month when Erdogan lost his temper while participating in a panel discussion of the recent Gaza conflict in Davos.
Before storming off stage, Erdogan told the Israeli president,
"When it comes to killing, you know killing very well. I know how you hit, kill children on the beaches."
Erdogan has been unapologetic about his outburst. While campaigning for municipal elections to be held in Turkey next month, the prime minister told reporters that the results of Israel's recent elections "painted a very dark picture" for the future of the region, Reuters reported.
By Ahmet Turan Ayhan
February 5, 2009
Let's have a flashback about the Palestine cause: Israel played the world like a fish and made itself seem like a big playmaker by holding the initiative consistently.
Led by Yasser Arafat, the Palestine Liberation Organization (PLO) drove rock-throwing little children against Israel's strategic moves, and Israel could not overcome this for a long time.
Arafat's leadership did not allow Israel to pull all the strings in the region with its moderate and elastic policy. Holding the initiative and playing the field was not that easy for Israel in those years. Carrying out shuttle diplomacy among Arab states, Arafat knew how to turn the Palestine issue into one of the most important causes in the Muslim world. Thus, the Palestine issue was never an easy pill for Israel to swallow; even the US did not spare its support.
Following the death of Arafat, things got easier for Israel because of the conflict between Hamas and Fatah. We can say that this bicephalous structure increased Israel's desire for the region even more and unfortunately could not mount a resistance against Israel in Palestine. Another gap that Israel has benefited from is the veiled or open conflict between Hamas and Arab states. And Arab countries that see Hamas as a threat to themselves have been on the same page as Israel: Hamas should be demolished. Countries such as Saudi Arabia, Jordan and Egypt have shown virtually no reaction to Israel's latest operations for that reason.
The Israeli policy that drives the country forward is its friction with 'radical Iran' and its challenges against Iran. So, a conflict with Prime Minister Erdoğan, who has taken the initiative for stability and peace in the region and who has become one of the most respected leaders in the world -- a conflict with Turkey -- would be the end of Israel's survival strategy in the region
The Palestine issue is also evaluated as a "buffer zone" between the Arab and Western worlds. The Israeli threat was a disturbing issue for the Arab world, and Israel could be kept busy by supporting Palestine against Israel. Thus, the support of Arab countries for Palestine never crossed to the other side of the retaining wall. And Israel, being the only country whose borders the United Nations could not define, continued to expand its land with its ongoing invasion of Palestinian land.

Dividing Palestine into the two tiny regions of the West Bank and Gaza, Israel nearly erased Palestine from the world map. As it was expanding its land and deepening its invasion, Israel took advantage of "Islamophobia" very often to convince the Western world; Israel represented itself to the Western world as a country that was fighting against "Islamic terrorism" and tried persuade the Western world by saying it was eliminating that threat for the sake of the whole world, and this is still taking place.

The lack of a reaction from the Western world against Israel should not be attributed only to the influence of Jewish lobbies, but also to the success of Israel's strategy of convincing Westerners through fictionalized Islamophobia rhetoric.
Does Israel have its back against the wall?
Israel lost the war in Lebanon in 2006 in military aspects and lost the war in Gaza (2008) in ethical aspects. If we consider domestic politics in Israel, it seems as though political parties will not meet their expectations in terms of collecting votes. Maybe Israel will achieve the political aims it has planned in the short term, but it will suffer because of its image as a "murderer state" in the long term.

Turkish Prime Minister Recep Tayyip Erdoğan communicatively expressed "the truth that all the people on the planet agree on" to Israeli President Shimon Peres in Davos. Actually his reaction to the Israeli president in Davos created a bigger impression than leaving the Davos meeting. In diplomatic language, the phone call made by Israeli President Peres to Erdoğan indicating that he was not offended by what happened can only be evaluated as the desire to shift from the image of a "murderer state" to a more personal one.

We should underscore that predictions about the future that await Israel are not definite. Israel incited the reaction of the world with the barbarian slaughter it carried out, and it appears that Israel's propaganda, which deliberatively reduces Gaza to "Hamas," cannot be handled even by Nobel Peace Prize winner Peres.
As long as Israel does not trigger a new process after the crime against humanity it committed in Gaza, it will start to eat up its own energy internally. Above all, a political crisis with Turkey in this period would mean the suicide of Israel. The Israeli policy that drives the country forward is its friction with "radical Iran" and its challenges against Iran. So, a conflict with Prime Minister Erdoğan, who takes initiative for stability and peace in the region and who has become one of the most respected leaders in the world -- a conflict with Turkey -- would be the end of Israel's survival strategy in the region.

Can Israel take such risk, which may cause it to turn from a country that holds the initiative and produces policy into a country that is shaped by others' policies? Essentially the situation is that. At this stage, it should be stated that Israel may find itself in such a situation whether it wants to or not, since international developments that are likely to take place imply that this may take place. Peres' phone call to Erdoğan to express his sorrow over what happened was not for nothing. The thing that Peres could not handle, more than Erdoğan's personality, was the strength and success of Turkish diplomacy under the leadership of Erdoğan.
Is the Davos crisis a great chance for Turkey?
The point at which Israel has arrived can be defined as "go farther and fare worse." Israel may recognize itself as having achieved certain aims (especially political aims) through the operation in Gaza, which was planned considering the nature of the soil there -- an operation that was planned very well tactically just before the Obama administration took office. But Israel's policy of producing tension in the region is taking a jab starting from today.

Now there is a peaceful country, Turkey, between Israel and Iran (the country Israel has continuously used as a foundation for its legitimacy). Turkish diplomats know how to bring Hamas and Israel together at the same table through their practices of peace and shuttle diplomacy, and now this has turned into a strong barrier for Israel. Turkey can succeed in limiting Israel by taking the initiative in the region and bridling both Palestine and Israel and another actor in the region, Iran. Moves that weaken the hand of Israel politically are made by Turkey.

Turkey can turn the crisis in Davos into an opportunity, and this has become possible because of a historical turning point in the meeting in Davos that occurred when Mr. Erdoğan (as he should have) left a panel discussion after an argument with the Israeli president. While the Turkish media discuss whether the behavior of Prime Minister Erdoğan was right, Erdoğan's action, which can be defined as active, smart and not to be outdone, has carried Turkey into a key position. Now, what is the probability that this attitude and this occasion will be turned into a stable one in the international arena? This aspect of the issue deserves to be discussed.

One of the things that bothers Israel most is the possibility that Turkey may work out a stable peace between Hamas and Fatah. This is one of the opportunities that await Turkey, and Turkey will increase its influence through its success in this. We should not be surprised if we witness such an initiative by Turkey.
[*] Ahmet Turan Ayhan is a political analyst.